If you need visa to come to the Czech Republic, course application deadline is May 31, 2022
Preparatory course for medical and natural science disciplines is held at the training center Prague.
The COMPLEX course includes:
| | | | | |
| --- | --- | --- | --- | --- |
| 1225 teaching hours per year | | | | |
| Information center consultations (email/WhatsApp) | | | | |
| assistance in obtaining a student visa | | | | |
| consultant support during your studies | | | | |
| help with nostrification process | | | | |
| career guidance | | | | |
| connection to student Wi-Fi network | | | | |
| Microsoft Teams license | | | | |
| access to the libraries of Charles University | | | | |
| certificate exempting from Czech exam at most of the faculties | | | | |
| textbooks for all subjects | | | | |
| no hidden additional payments | | | | |
Study Medicine in the Czech Republic. Course Description
The study load of the course is 35 hours per week. For the first 2 weeks, students get super-intensive Czech teaching. Within this time, they reach A2 level and then continue studying with a regular schedule. Students continue their intensive studying of Czech for 22 hours a week in the first semester and 17 hours a week in the second semester. The rest of the time is spent studying major subjects required for the entrance exams. Major subjects are also conducted in Czech.
The first semester ends with a B1 midterm exam. This exam meets the minimum requirements for admission to some universities with instructions in Czech. At the end of the second semester students take the B2 level exam. The ILPS certificate you obtain if you pass the exam is recognized in almost all Czech universities (see the table).
Students who have successfully passed the entrance exams of the First Faculty of Medicine and Faculty of Medicine of Charles University in Pilsen, also take C1 level Czech exam. This exam was developed by ILPS in cooperation with medical faculties specially for foreign applicants. Find out more about what medicine and natural science programs are taught in Czech universities in our programs catalog.
Course Cost
The cost of the course includes: training, study materials, consultant support, career guidance, a final exam at the end of the course, cultural program and connection to the international Wi-Fi network Eduroam (Read more about Eduroam).
| | |
| --- | --- |
| Course duration | September 2022 – June 2023 |
| Price | € 5,940 (training and basic study materials) |
| Number of lessons per week | 35 lessons per week |
| E-mail | studujop@ujop.cuni.cz |
Note: Applications for the course have been extended until May 31, 2022.
Accommodation
Students of the Prague-Krystal center can choose one of these two options:
Accommodation in the hotel Krystal
The study center is located in the same building as the dormitory, which means that it takes 2-3 minutes to get from home to school.
Address: José Martího 2/407, Praha 6 – Veleslavín
Transport: tram stop of the routes 20 and 26, metro station Nádraží Veleslavín (green line), terminal stop of the bus 119 (direct route to the airport).
Double rooms with private facilities and refrigerators.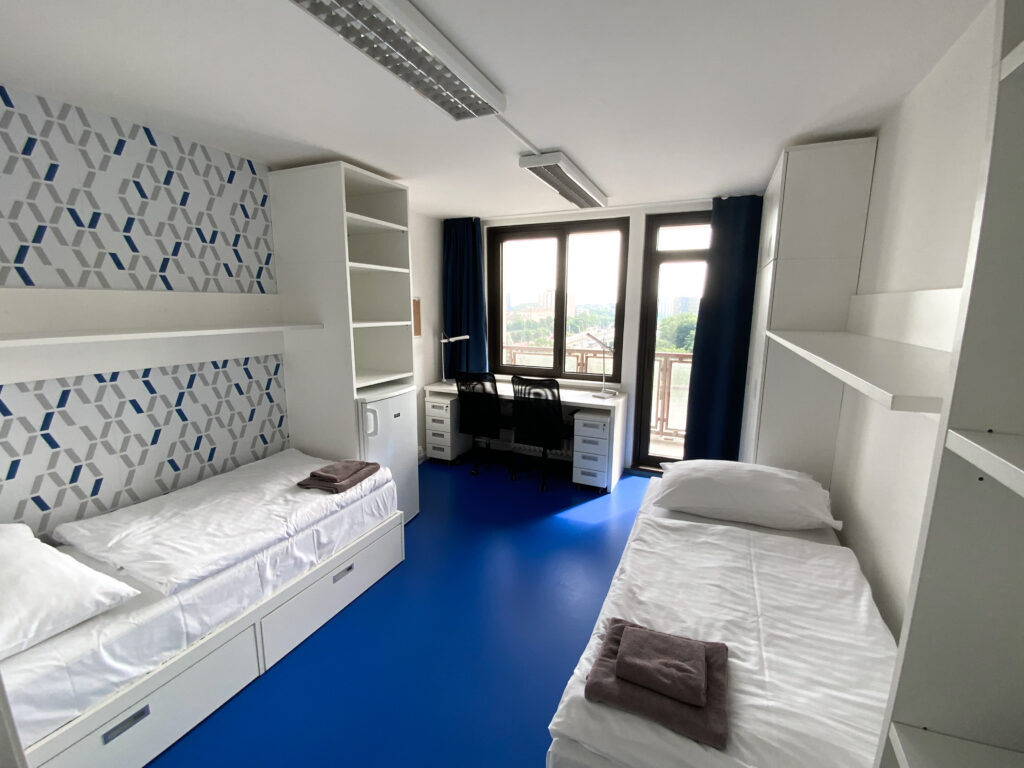 On each floor:
a shared kitchen equipped with a stove, oven and microwave, there is also a kettle and a locker for each room;
paid laundry (price 60 CZK/wash cycle, drying machines are free);
rooms for studying and for leisure.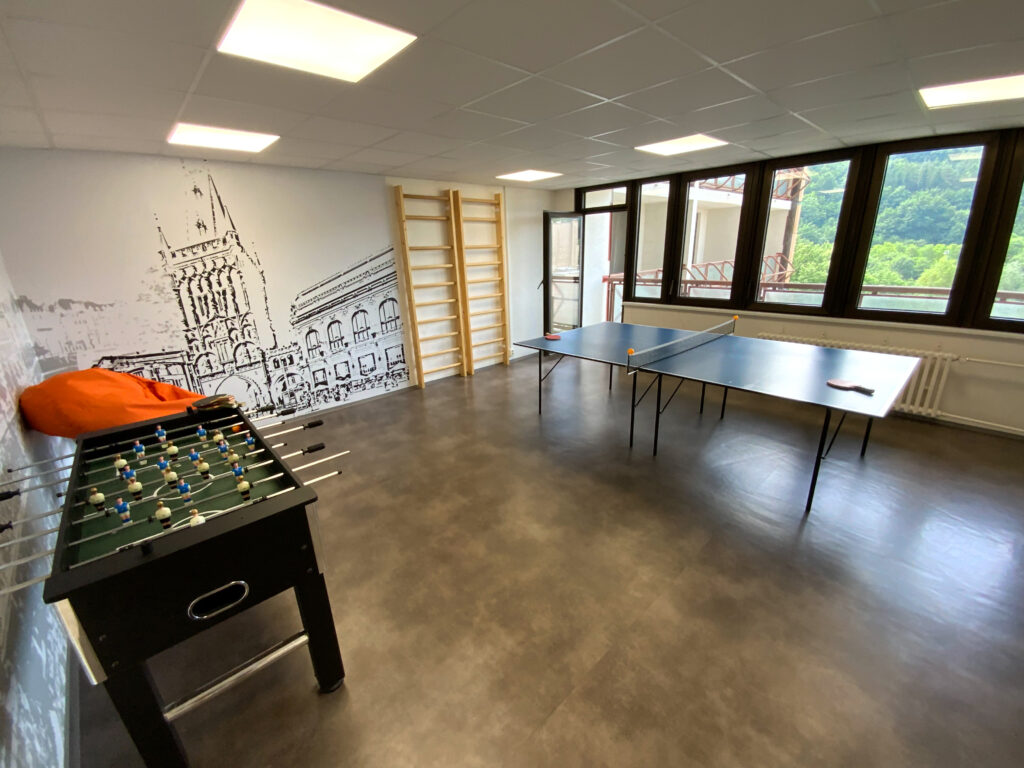 Bed linen and towels are changed weekly. Cleaning of premises (vacuum cleaning, shower cleaning and garbage taking out) – once a week.
Wi-fi: Since ILPS is a part of Charles University, our students are connected to the European student network Eduroam. This means that you can connect to it not only in the building of the hotel or your study center, but also at any university in any European country. Read more about Eduroam.
---
Read more about the dormitory and room types: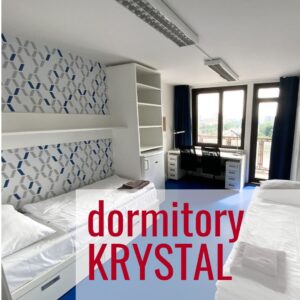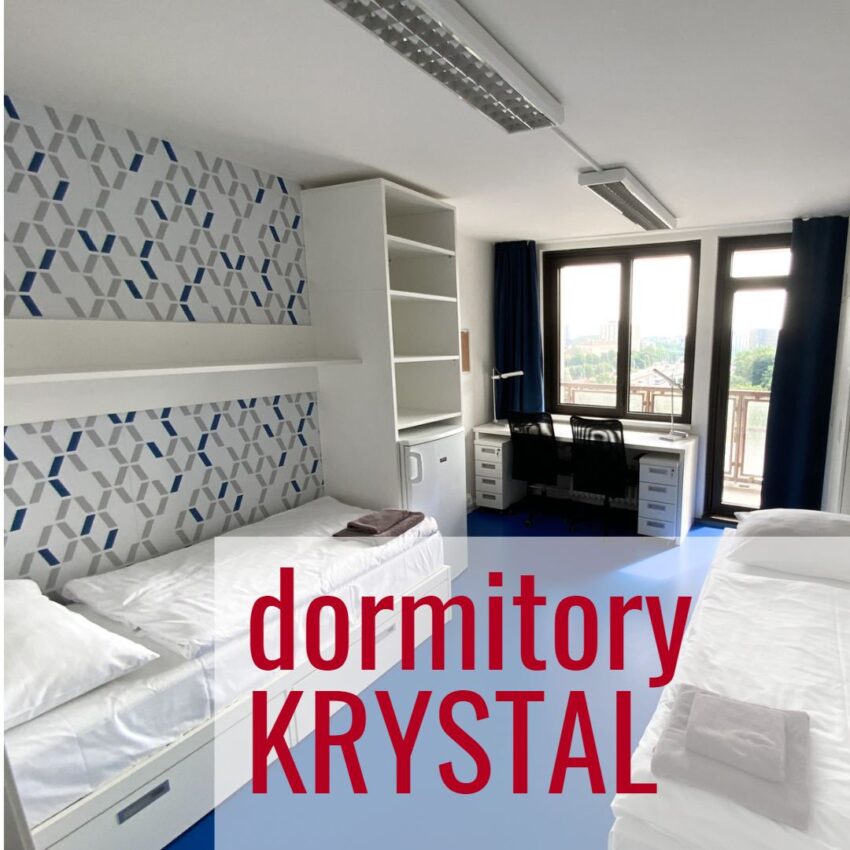 In the ILPS CU Prague-Krystal department, our students are prepared for admission to humanities, art-related, architecture-related, medical, and natural science programs. While training, they live in the dormitory of the study center.  Dormitory "Krystal" is located in the hotel complex near a convenient transport…
0 comments
---
Accommodation price
STUDENT ACCOMMODATION PRICES 2022/2023
Future students pay a deposit of EUR 300, which includes a non-refundable reservation fee of EUR 150. A non-refundable commission is withheld if the student, for some reason, refuses to stay. The 300 euro deposit covers the first few months of living in a dormitory (depending on the cost, it is two to three months), then students can pay for the entire stay right away or pay monthly.
If you pay for the whole semester or for the whole year at once, the cost of living will be lower than if you pay monthly.
When you arrive at the Krystal dorm, you also have to pay a refundable security deposit of 10,000 crowns.
Accommodation in the Hvězda dormitory
The dormitory is located in a 15-20 minute walk/ride from the school (recommended transport – Nádraží Veleslavín – Petřiny metro stations, change to bus no. 191/168 to the Nad Markétou stop).
Address: Zvoníčkova 1927/5, 162 00 Praha 6-Břevnov
Transport: tram routes 22 and 25 (550 m), 1 and 2 (500 m), buses: 191, 168, 164 (200 m), 180, 184 and 179 (500 m).
Hvězda dormitory offers double rooms without private facilities. There is a small refrigerator in each room. Showers, toilets and kitchens are shared. In the dorm, you can use a lounge room, study room, gym and student club. The dormitory has a free Wi-Fi network Eduroam (Read more about Eduroam). For an additional charge, you can use the laundry (20 CZK per hour). You change bed linen by yourself 2 times a month. Self-cleaning of the rooms.
You can find detailed information on the website of the Dormitories and Canteens of Charles University.
Accommodation price
A double room costs from 115 to 179 CZK/night (based on availability of the rooms).
To make a reservation of a room in the dormitory, you need to pay 150 EUR. This amount covers accommodation fee for a double room from 01.09 to 30.09. Then students pay for accommodation monthly at the dormitory payment office.
Step-by-step Instructions for Course Enrollment
It is very easy to apply for our courses. You only need to fill in an online application on the official website of ILPS CU. On our YouTube channel you can find a video guide on how to fill in the online application
Step 1. Apply online
Press the red button
Fill in all the fields/columns in the window that opens. Everything in the form that you type yourself has to be written using Latin letters.
There is a section "Education and Studies" among the fields of the application. In this one, you need to select a Study Programme from the drop-down list (the left column in the table below).
In the next section Specify the Study Programme you need to write the specialization that is closest to your future specialty. You need to select this specialization from the right column of the table below.
Study Programme
Specify the Study Programme
0511 Biology
Human Biology
Experimental and Molecular Biology
Anthropology and Human Genetics
Microbiology (Genetic Engineering) NMgr.
Zoology NMgr.
Parasitology NMgr.
Ecology NMgr.
Genetics
Molecular Biology and Virology
Immunology NMgr.
Botanics NMgr.
0512 Biochemistry
Biochemistry and Biotechnology
Forensic Science and Food Analysis
Natural Substances and Medicines
0521 Environmental sciences
Environmental protection
Applied Ecology
0531 Chemistry
Medical chemistry
In/organic chemistry
Chemistry and physics of materials
Analytical and Forensic Chemistry NMgr.
0588 Inter-disciplinary programmes and qualifications involving natural sciences, mathematics and statistics
Biomedical technology
Socio-economic demography
0711 Chemical engineering and processes
Chemical engineering and bioengineering
Synthesis and production of pharmaceuticals
Chemistry of biomaterials for medical use
Nano and Microtechnology in Chemical Engineering
0841 Veterinary
Veterinary hygiene and ecology
Veterinary Medicine Mgr.
0911 Dental studies
Dentistry and dental hygiene
0912 Medicine
General medicine
Paramedic
0914 Medical diagnostic and treatment technology
Optics and optometry
Medical bioanalytics
Radiological physics
Laboratory Diagnostics in Healthcare Bc.
Medical genetics and molecular diagnostics Bc.
0915 Therapy and rehabilitation
Physiotherapy
Ergotherapy
Nutritional therapy
0916 Pharmacy
Pharmacy
The following documents also have to be attached to the application:
a) A MOTIVATION LETTER (in English) – download the letter form and fill it out. You cannot send your application without a motivation letter.
b) A COPY OF YOUR SECONDARY SCHOOL GRADUATION DOCUMENT together with an appendix (in English, Spanish, Russian or Ukrainian).
If you do not have a school graduation certificate yet, attach a note from your school, where it is indicated that you are in your senior year now. It should also indicate the year you graduate from school and it has to be stamped. The note's form is not specified, it should be issued to whom it may concern.
Students preparing for a master's (or doctoral) degree must attach a copy of their higher education diploma.
Without this attachment, the application will be accepted but cannot be processed.
c) A COPY OF YOUR INTERNATIONAL PASSPORT – the page with your personal data (in case you already have a visa to come to study in the Czech Republic, you should also copy the page with that visa).
If you are about to get a new passport, then send a copy of your current passport, and write that you are planning to change your passport at the bottom of the application, in the explanation notes. Please make sure that the explanation notes, as well as all items in the form, must be filled in only in Latin script, otherwise the form cannot be sent.
If, for some reason, you have not attached a document on your education (school certificate) and passport when submitting an online application, send them later by e-mail to the address: studref3@ujop.cuni.cz, in the subject line indicate your name, surname and the name of your training center (everything in Latin script).
You will receive an automatic confirmation – a .pdf file with the submitted application will be sent to the email address specified in your application. You will also get a warning about missing documents in the same letter. This is an automatic warning. If you have attached all the documents, just ignore it.
The email address of the assistant who is responsible for your application is also indicated there. For medical and natural science disciplines, it is studref3@ujop.cuni.cz . You will resolve all issues regarding documents and money with your assistant via e-mail. When communicating with an assistant, always indicate your NAME and SURNAME (in Latin script) and the name of the training center Prague as the SUBJECT of the e-mail.
Step 2. Get a reply from the assistant
After your application is processed, you will receive a pre-registration email from the assistant with the following documents attached:
Payment instructions
You need to go to a bank with this document to pay for the course.
Study contract model
This document is for informational purposes only and does not have to be signed.
General terms and conditions for accommodation in dormitories (if you make a reservation of a room in a dormitory)
Application for health insurance (if you

order health insurance

through us)
This document needs to be printed, filled out, signed, scanned/photographed and sent back to the assistant.
A model of a completed health insurance application
Other information materials
Please read all of the documents carefully.
Step 3. Pay for the course
Tuition fees must be paid in full, payment in installments is not provided. Only after full payment is received, the assistant will be able to send an official letter of admission to training – it is with this document that you will make an appointment for applying for a visa at the consulate.
If you do not need a visa (students from the EU or those who have permanent residence in the Czech Republic), then full payment for the course is required no later than one week before training begins (if you make a reservation for accommodation, the deposit may be required earlier).
Step 4. Collect documents for your visa
After receiving the payment, we will prepare the following documents for you:
A confirmation that you have been accepted to the course
Study contract
Accommodation contract for 12 months (if you have made a reservation at our dormitory)
Insurance contract for 12 months (if you have ordered insurance through us,

find more details here

)

covid-related confirmation
You will need to collect the following documents by yourself:
International passport
Statement from your bank on the availability of money in your account;
Certificate of criminal record;
Notarized consent of your parents for their minor child to leave the country (if you need one in your case)
Your international passport has to be valid for at least another 3 months after the expiration of the long-term visa for which you are applying.
The documents that you have collected yourself need to be translated by a Czech court translator. This translation can be ordered through us, find more details here.
Make sure to find your consulate on the website of the Ministry of Foreign Affairs of the Czech Republic and check the document requirements on the website of the embassy/consulate in your country!
Find more information in the visa section.
Step 5. Make an appointment at the consulate
Find your consulate on the website of the Ministry of Foreign Affairs of the Czech Republic, look over the visa application registration requirements and register.
As soon as the embassy/consulate assigns you a date to submit your documents, make sure to inform your assistant so that she can prepare and send you the documents.
Step 6. Submit documents to the embassy/consulate
Check the document requirements on the website of the embassy/consulate in your country once again!
Download and fill in the application form.
Contact us via e-mail studujop@ujop.cuni.cz or via WhatsApp +420 778 754 481, we will help you fill in the application form and give you some advice before your interview for free.
At the time of submission all documents must not be older than 180 days.
Find more information in the visa section.
Step 7. Get your visa
The consulate will inform you about the result of your application consideration by phone or by email.After your visa is approved, you will be called to the embassy/consulate to get it, you will have to come there with your international passport, confirmation related to covid and your health insurance contract (HEALTH INSURANCE can be ordered directly through ÚJOP)
Refund Conditions in Case of Visa Denial
Our students are rarely denied visas. Yet, if your visa is not approved, you will get a refund of the course fee minus 120 euros. 150 euros will be charged from the deposit for accommodation. Also, administrative costs of 2% will be deducted from the returned part of the total amount. For full terms and conditions of refunds, please read the contract, which you will receive to examine after sending an online application for our courses.
How to Get to Us? / Consultant Support
A transfer service from the airport to the training center is not included in the price. Arriving students can order a transfer from the airport to the dormitory through the training center for an additional fee. Also, before arrival, all our students will get detailed instructions on how to get to the center, where to change money, how to buy public transport tickets, and so on.
During the whole time of your interaction with ÚJOP, you will be in contact with the staff of the center. The assistants of the central student department will be helping you at the stage of application and visa processing. They will guide you through the prosses of documents preparation to apply for a visa.After you obtain your visa, the consultants of the training centers will be in touch with you. All of them speak Russian and English, and you can contact them for any questions. They will help:
with the bureaucratic part of the nostrification process;
with applications to universities (přihlášky);
with organization of the educational process;
with getting to know the surroundings (shops, infrastructure, transport, etc.);
with registration in the department of migration (OAMP).
Also, feel free to ask any questions at studujop@ujop.cuni.cz and via WhatsApp +420 778 754 481.