The embassy/consulate has scheduled a date for your visa application appointment. You have informed your administrative assistant about this date.
The administrative assistant prepares the following documents for you:
Confirmation that you have been accepted to the course
Study contract
Accommodation contract for 12 months (provided that you have booked a room at one of our dormitories)
Insurance contract for 12 months (provided that you have ordered your insurance through us, more details here)
Covid-related confirmation
You will need to collect the following documents yourself:
International passport
Certificate from your bank on the availability of money in your account;
Certificate of criminal record;
Notarized consent of your parents for their minor child to leave the country (in case you need one)
Your international passport has to be valid for at least 3 more months after the expiration date of the long-term visa for which you are applying.
The certificates that you have collected yourself need to be translated by a Czech court translator. This translation can be ordered through us, more details here.
In addition to the listed documents, each consulate requires you to attach photographs, envelopes, copies of documents, etc. to your application.
Be sure to check the document requirements on the website of the embassy/consulate where you are applying for a visa. The list of all embassies and consulates of the Czech Republic can be found on the website of the Ministry of Foreign Affairs of the Czech Republic.
And most importantly: do not forget to attach the application itself to your package of documents.
Read next: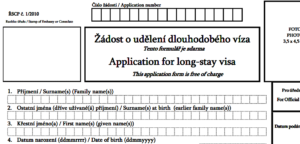 Download the form on the website of the Ministry of Internal Affairs. Print it out and complete the form by following the instructions below. DOWNLOAD THE SAMPLE THE APPLICATION SHOULD…