Source: thematic websites
Most likely, having noticed colored eggs, chocolate rabbits and lamb-shaped cakes in stores, you have figured out that the Czech Republic is celebrating Easter. Non-religious Czech Republic celebrates Easter much more modestly than Christmas.
However, you have to know something about Easter, because it is not only about customs and traditional food. It is also an official holiday when all institutions and shops are closed.
When the shops will be closed
Large stores are to have a day off on Easter Monday. So they will be closed on April 10. Only pharmacies, shops at gas stations, train stations and airports will be open.
Ussually Good Friday remained a normal working day. However, this year the government has declared Friday (April 7) to be a public holiday as well. But no worries, shops will be open on Friday, Saturday and Sunday.
Colorful days and related traditions
It is known that some days of the Holy Week (Svatý týden) are named after colors – blue, gray, green, white. There is no certain explanation of these names' origins, but in one case it is about a confusion of words.
Blue Monday. Earlier, this day used to be the start of students' spring break. Churches were decorated with blue fabric. The tradition was that no one was supposed to go to work on this day, but it is no longer respected nowadays.
Tuesday is called gray. The gray color, apparently, reminds of the custom to sweep cobwebs and dust from all corners of the house on this day.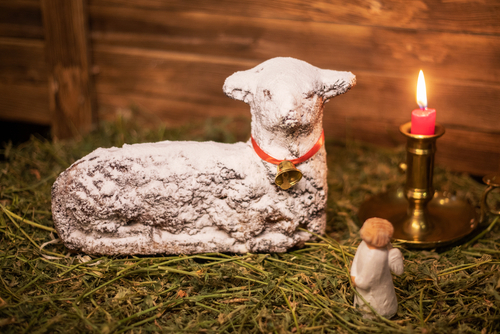 Holy Wednesday (in Czech it is called Nasty or Vile – Škaredá) recalls the betrayal of Judas, a vile act. On this day, they used to clean soot from chimneys. According to a belief, nobody was supposed to frown, because if anyone did, they would be angry on Wednesdays for the whole year.
Green Thursday. On this day, the bells in churches stopped ringing – their souls flew to Rome, and boys with rattles walked around villages.
In fact, Thursday is supposed not to be green, but whiny. However, over time a confusion of the German words grein (weeping) and grün (green) has taken place. Everything has to be green on Green Thursday. Green dishes are prepared, mostly using spring herbs (nettle, spinach, green onions). Surely, many of you have brought back the green beer at this point, but this is a new tradition, which started in 2006 in Brno.
According to beliefs, on Green Thursday one should avoid lending anything to anyone or getting into quarrels. As a reward, quarrels will avoid you, also money might find a way to you.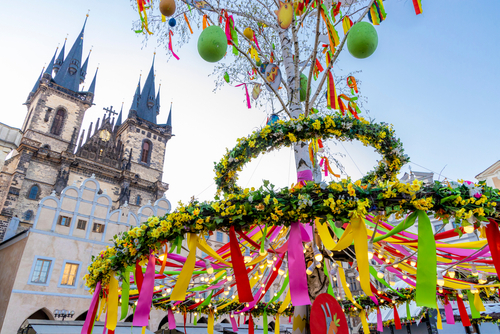 Good Friday is called Great Friday in Czech. This is a day of deep sadness, the day of the Christ's crucifixion. It was believed that on this day the earth gives its hidden treasures back. People were not to work in the field, dig and wash clothes.
White Saturday. Christ was laid in his grave on this day. On farms, people whitewashed, cleaned, prepared Easter food, baked curd pies (koláče), dyed eggs. Boys and men wove willow twigs (pomlázky).
Resurrection. On the night from Saturday to Sunday, Christ rose from the dead. This night is called "the great night", and this is the reason why Easter was named Velikonoce in Czech. On Sunday fasting ends and everyone eats traditional Easter dishes – pastries and eggs.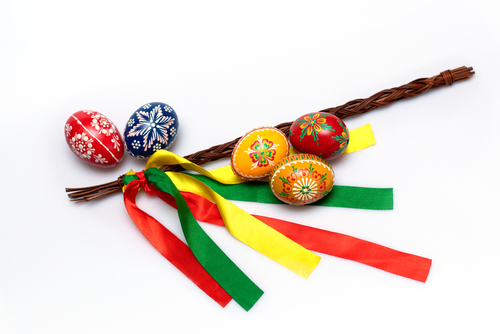 Great Monday
In the Catholic tradition, this is also a holiday (in the Czech Republic it has always been a public holiday). On Great Monday, men and boys had to whip all the women and girls they met with willow twigs so that they would be healthy all year long. On the Internet, you can find many stories of Czech women about how much pain and humiliation they have gone through due to this "game". It is to be hoped that over time this whipping will become purely symbolic.
We wish you all enjoy the holidays.
Read More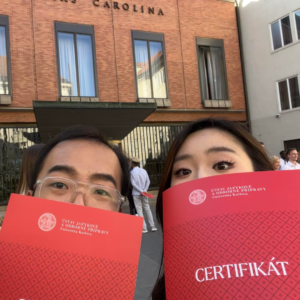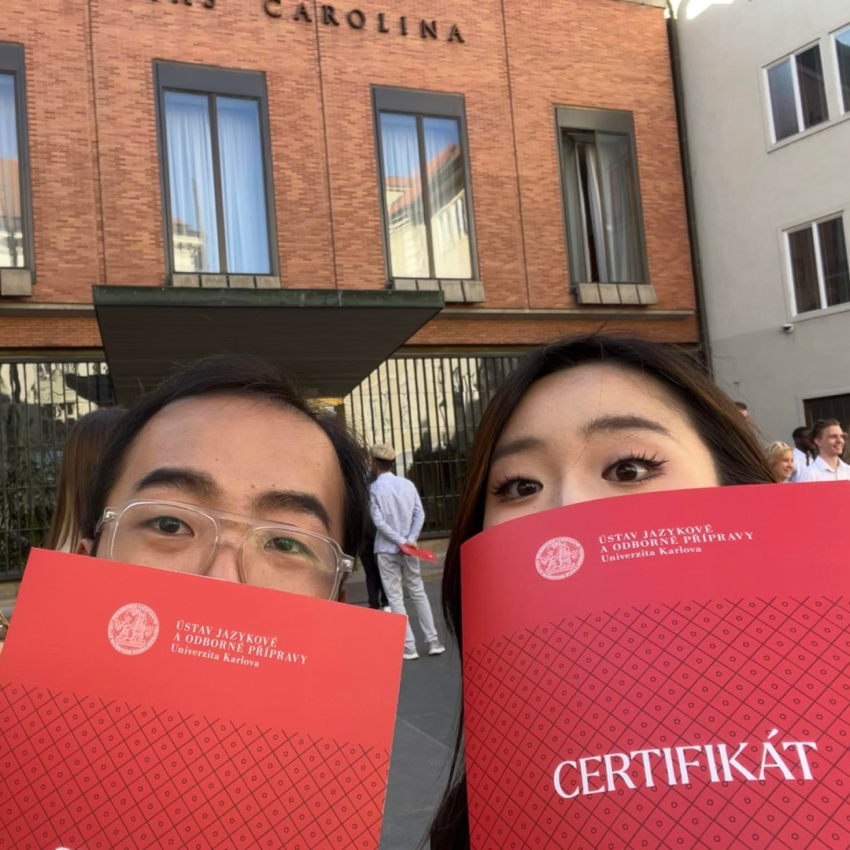 Zdenko 老师,我的成绩太好了! 我在口试中只扣了一分——我自己都不敢相信。 笔试部分有我们在课堂上讨论过的问题。 非常感谢!——来自中国的学生颜春丽写给她的老师。 她被查理大学录取,在那里她将在哲学系学习对外波西米亚文学的硕士课程。 她的同学李嘉明也顺利通过了社会科学系的入学考试,将攻读媒体研究硕士学位。 两人都是2022年从中国来到捷克,加入了Humanities COMPLEX课程。 由于他们之前已经学习过捷克语,因此他们与懂斯拉夫语的学生一起上课,以便能够更快地学习。 即便如此,春丽和嘉明也能跟得上学习进度。 他们都在定期考试中取得了一些最好的成绩,勤奋地学习了他们的专业科目,并达到了 B1 水平的捷克语水平。   除了捷克语,他们俩人都很高兴参加了电影和戏剧史课以及社会和文化研讨会。 春丽提到,这些课程中讨论的话题对入学考试有很大帮助。 嘉明还参加了学生演讲比赛,并因其对中国传统服饰的演讲而获得了荣誉奖。 他和他的助手们穿着传统的汉服,甚至设法让观众中的两名志愿者穿上了这种与众不同的服装。 您想免费在捷克最好的大学学习吗? 为此,您只需要做两件事 – 学习捷克语并为入学考试做好准备。 所有这些都可以在查理大学的 ILPS 预科课程中完成——我们为几乎所有领域的入学做准备。 点击横幅