If you intend to study at a Czech university, you need to obtain a long-term residence permit (dlouhodobý pobyt). In this article, we will explain this process step by step.
Scheduling an appointment at the Department of Migration Policy (OAMP)
You can apply for a long-term residence 90 days before the expiry of the long-term visa issued for your preparatory course or a previously obtained long-term residence permit (the expiration date can always be seen on the back of the pink card). The latest date for submitting an application is on the last day of validity of a visa or a previously obtained permit. The website of the Ministry of Internal Affairs states that if that day is a weekend or a holiday, you have to submit an application no later than the last working day before your visa expiration date. Please note that you cannot come to the Ministry whenever you want – just like when you are applying for a visa, you need to make a reservation on the day of applying. Time is limited, so never postpone your reservation till the last day – there will be no free terms and you will miss the date when you could apply.
You can sign up for an application submission in two ways – by phone and online.
---
Do you want to study at the best Czech universities for free?
You only need to do two things for this – learn Czech and prepare well for the entrance exams. All this can be done on ILPS preparatory courses of Charles University – we prepare for admission in almost all fields. Click the banner

---
The easiest way, especially if you are not confident with your Czech, is to sign up online at https://frs.gov.cz/, where you can find an English version.
You need to sign up. As usual, you will be asked to indicate your last name, first name, citizenship (Nationality), date of birth, passport number and expiry date of your passport.
In the "Settings" field, I selected the part of Prague (District) in which I live, which is Prague 6. I checked the box next to "Study at university is the purpose of my stay in the Czech Republic", and left the second box blank since I don't have any EU citizens as relatives.
Then it is very important to indicate your valid e-mail, since your PIN code will be sent to the indicated email, which will make it possible for you to receive an appointment card at OAMP.
After you have signed up, click on Make an appointment and then do the following steps.
Indicate how many people will be with you or you will come alone
Select the purpose of your reservation. I have the "Application for a long-term residence permit for the purpose of studies" option.
Select a date for your visit to OAMP.
Choose the time.
At the end of the procedure, your PIN will appear on the screen, you will need it when you come at the appointed time. Check your email – this information should be duplicated in a letter.
I reserved the date a month and a half before the expiry date of my pink (biometric) card, so there were a lot of free days and a large selection of hours. If you want to reserve a date that is convenient for you, and not choose from the ones that are left, reserve it in advance.
Preparation of documents
You need to bring the following documents to OAMP:
Confirmation of studying.
Completed green application form.
Accommodation contract.
Insurance contract for a foreigner.
Document about the availability of money in the account.
Kolky (stamps) in the amount of 2500 crowns.
International passport.
Pink (biometric) card (if you have one or if you are applying for extension of your dlouhodobý pobyt, or long-term residence permit).
Confirmation of studying
You have successfully passed the entrance exams, which means that you can receive a confirmation of your studies at your faculty.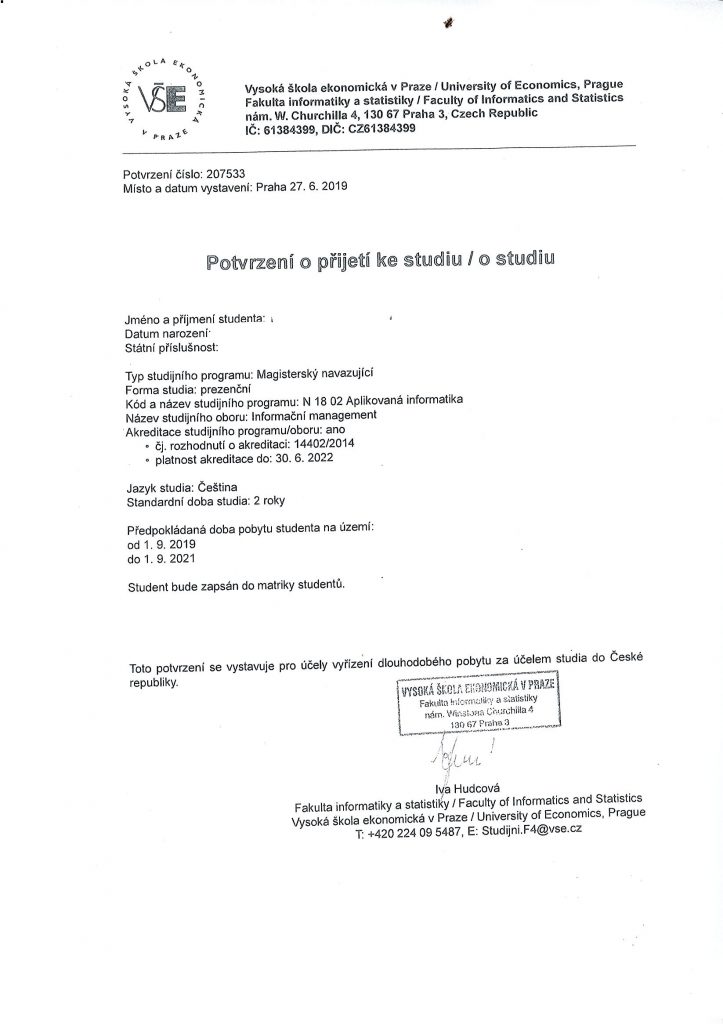 You need at least two confirmations – one when submitting your documents, and the second when you check into a student dormitory. Better yet, take four pieces – there is never too many. You never know when you might find a part-time job and you'll be asked for a confirmation of studying for your employment.
Green application form
You can get a green application form at any OAMP office. Its first page looks like this.
We advise you to take four pieces right away. A couple in reserve, if you make a mistake when filling it in, and a couple as clean copies – for this and for the next year, so as not to go specially for taking one next year.
The application forms are filled in in Latin letters, in capital block letters in Czech or English. We are not going to go through all of it – there are mostly standard questions. Let us dwell on only a few points that may be problematic.
Head of the form. If you are applying for dlouhodobý pobyt for the first time, then you need to check the second box (O povolení k dlouhodobému pobytu). If you are applying for extension of your long-term residence permit, you need to check the third box (O prodloužení doby …).
Point No. 3. If you have changed your surname, write your previous surnames.
Point No. 8. Country of birth – write three letters as indicated on the back page of the application form. If you are from Kazakhstan, write in the letters KAZ.
Point No. 10. The nationality is also written in three letters.
Point No. 11. Write the highest degree you have (bachelor's, master's, etc.)
Point No. 12. – write student or studentka
Point No. 13. You can leave this one blank.
Point No. 14. In the Zaměstnavatel section write the name of your university and faculty, and in the Pracovní zařazení section write "Student/ka". Basically, you don't need to fill in anything else.
Point No. 15. Purpose of stay – write "Studium".
Point No. 17. If this is not the first time you are renewing a long-term residence permit, here you need to write the date of the issue and the expiration date of your previous permit. If you are renewing it for the first time, write the date of entry into the country and the expiry date of your residence permit.
Point No. 18. A very important point – here you need to write the address where you live, that is the one for which you have a residence contract. And although under the new rules, the address of residence should no longer be written on the card, you still need to write the correct address.
Point No. 20. Date of your entry into the Czech Republic – you can find it in the stamp in your international passport.
Point No. 29. Write the city where you have filled out the application form (e.g. Prague), write the date and sign the form.
Residence contract
I terms of dates, the residence contract has to cover the entire duration of your stay in the Czech Republic. Two important issues derive from this.
1. If the contract is signed for 11 months, you will be given a residence permit only for 11 months, and not for a year.
2. You may need to bring two residence contracts – an expiring one and a new one – in case their dates do not fully cover the time of your stay in the Czech Republic. For example, a new contract with a dormitory begins on September 1, but you submit documents in August, when the previous contract is still valid.
An important point – all the documents that you give to the consulate will not be returned to you. This means that if you need the original of the residence contract (and you need it), you should make a certified copy of it at Czech Point.
Insurance contract for a foreigner
The insurance has to cover 12 months. ATTENTION! AS AT AUGUST 2, 2021, ONLY A COMPREHENSIVE INSURANCE IS SUITABLE FOR OBTAINING A STUDENT VISA. IN THAT REGARD, THE INFORMATION IN THE ARTICLE IS OUTDATED AND INVALID IN THE PART THAT CONSERDS BASIC INSURANCE. YOU CAN FIND THE CURRENT PRICE LIST FOR INSURANCE SERVICES ON THE THE OFFICIAL WEBSITE.
Information about the availability of money in the account
I have my money in two accounts at Fio Banka – in crowns and in dollars. This means that I needed to take Výpis z účtu from both of them. Make sure to inform the bank right away that you need not just a simple Výpis z účtu, but with a stamp (s razítkem) for OAMP. The confirmation for each account had to be paid separately, so I spent 240 CZK (120 CZK for each document).
Kolky (stamps)
Kolky are sold at any post office. You need to buy them for the amount of 2500 CZK.
Do not be surprised when all stamps will be taken from you on the day when you submit your documents – this should be done because of the new rules. And this means that you need to have kolky with you for the entire amount.
Application submission
Check the address you need to go to – it is indicated in the email with the PIN that you have received. The address of my OAMP office is Hládkov 682/9, Prague 6. By the way, that is the one where only students submit documents.
You need to arrive at least 30 minutes before the appointed time, 15 minutes at the very latest.
Inside you are going to see the waiting room and a terminal.
On this terminal, you need to select a language, for example, English.
On the screen that appears, select the top button (if you have scheduled an appointment via the Internet).
Then enter your PIN
And get your number in the waiting line.
I like the Hladkov office because if you sit in the corner by the window, there is a chance to connect to the Eduroam wi-fi there. So you can kill time surfing the Internet while waiting for your turn.
When your number and the number of the window lights up on the board, feel free to go there to submit your documents. As far as I can tell, at OAMP Hladkov all staff can speak English, but don't be afraid to speak Czech, they won't ask you anything complicated.
If all the documents that we have mentioned are fine, you will be given a confirmation that your documents have been accepted. That's it, you can say "Na shledanou!" to the Foreigners' Affairs department. Now you need to wait for the processing of your documents. It takes approximately 30 days.
Signing up for biometrics
You can check whether your documents have been processed or not on the website https://frs.gov.cz/cs/ioff/application-status.The confirmation given to you by OAMP will have an OAM number at the top, below the address.
It is the one you need to enter on the website to find out whether you have obtained a residence permit or not.
If you find out that your application has been approved, you can call 974 801 801 by yourself and ask to sign you up for a time that is suitable for you. If you don't call, the OAMP staff will call you themselves – don't be alarmed when you see a call from a blocked number. By phone, you will agree on the date that you will be offered, and on the appointed day you will come to OAMP again to take your biometrics.
And very soon you will receive a pink card that will allow you to stay in the Czech Republic for one more year.
Read More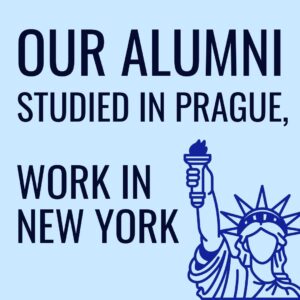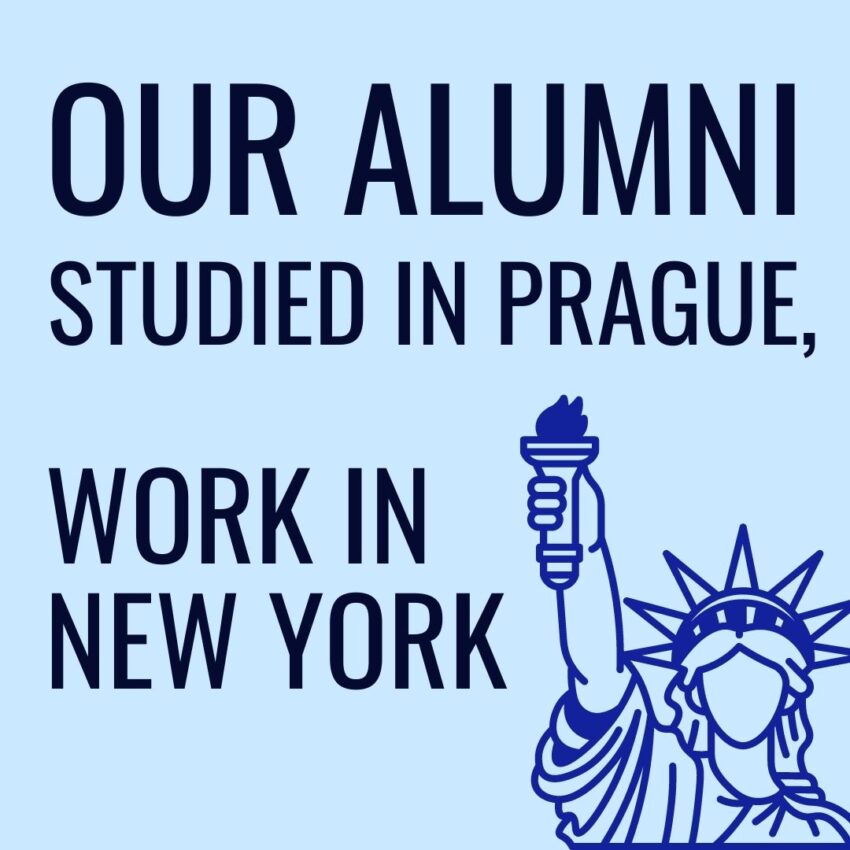 Mr. and Mrs. Brima are our alumni, they started their academic career at Charles University. Now they work at the University of Rochester Medical Center NY. Doctor Tufikameni Brima (maiden…